Support the Myers Automotive Acute Care of the Elderly (ACE) Unit This Giving Tuesday - November 29th
November 29 2016, Myers Volkswagen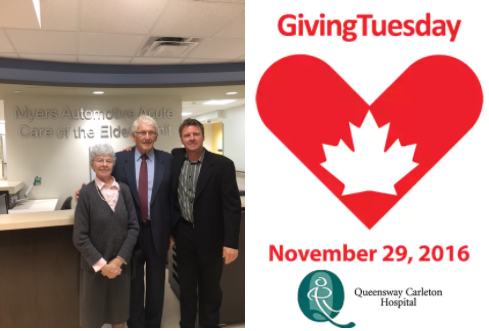 Each year Black Friday and Cyber Monday help the economy. Now there's a new day after Cyber Monday called Giving Tuesday, where instead of getting, you have the opportunity to join a movement dedicated to giving back!
Giving Tuesday is a movement that began in Canada with the hopes of helping important causes in their fundraising efforts. Our good friends at the Queensway Carleton Hospital are Giving Tuesday participants this year on Tuesday, November 29th, and are looking for donations to help complete the community support needed for the new Myers Automotive Acute Care of the Elderly (ACE) Unit at the hospital. We are so happy to see the Myers Automotive ACE Unit opening and preparing to begin accepting patients this November and hope you will help this important unit which will help many patients who need the specialized care the unit provides.
Visit givingtuesday.qchfoundation.ca and make your gift this Giving Tuesday.